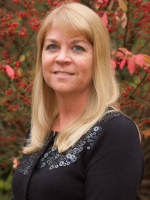 About Mandi Lenhard
Mandi is the Director of Client Services at the Law Office of Michael Robinson, P.C. She is responsible for managing the daily operations of the office, including communications and scheduling with our clients, vendors and business associates. Mandi also is responsible for the development and implementation of marketing strategies, such as coordinating seminars, mailings, Internet marketing, and other marketing initiatives.
Experience
Mandi has over 20 years of experience in client service, marketing, and office management, as well as copyediting and proofreading. In addition, she was a media director for more than a decade. As such, she developed and provided comprehensive analysis and integrated marketing communication plans, as well as supervised marketing and advertising campaigns for a multitude of clients in various industries.
Education
Mandi first attended LeMoyne College in Syracuse, NY, then transferred to Nazareth College in Rochester where she majored in English/Education. She has attended many educational seminars and workshops over the years to further her education.
Personal
Mandi enjoys spending time with her family: husband, Bob and two adult children, Bobby and Danielle. She loves the outdoors, especially gardening, walking and hiking, and she also enjoys cooking and reading.

BACK TO ATTORNEY AND STAFF INDEX